ImpACT! Class of 2020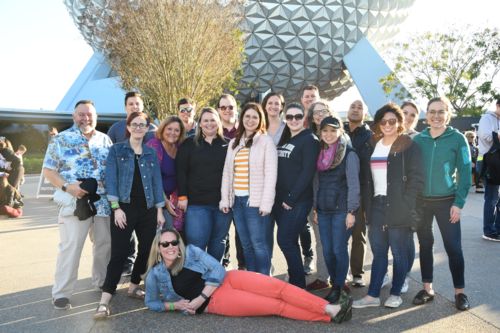 Group 1
Brittany Barrett
Emory University
Marie-France Laurin
Netlift
David Zyck
WeDriveU

Inspired by the creation of ACT's "Supporting Commuters" document, this group decided to search for an untapped opportunity within K-12 schools. Traditionally, schools promote student-focused Safe Routes to School programs, but don't consider TDM strategies for staff. Connecting with Kristin Haldeman, Director of Multimodal Transportation Planning at Arlington Public Schools, Brittany, Marie-France, and David analyzed the results from a staff transportation survey conducted in early spring. From this analysis, they came up with suggestions which include promoting commuter benefits more widely and supporting biking as a form of staff transportation. Read their report here.
Group 2
Madeline Feig
Luum
Melissa Foley
Commute with Enterprise
Kaite Justice
Valley Regional Transit

ACT members will be familiar with this ImpACT group's project – ACT's popular Virtual Discussions . Every Friday for ten weeks in the spring, Madeline, Melissa, and Kaite led the members-only hour-long Zoom chats on topics that ranged from COVID-19 impacts on budgets and outreach, to reopening plans, to active transportation. The Virtual Discussions average 176 people registered, and 160 per weekly call. Everyone who joined in appreciated this member perk of networking with other TDM professionals, and helping out an industry in a time of crisis. The Virtual Discussions were so popular that they have returned as a regular part of ACT programming.
Group 3
Kelly Koster
Luum
Lloyd Nadal
Solano Transportation Authority

In May, Kelly and Lloyd interviewed TDM professionals from private and public institutions to learn how each was handling the coronavirus crisis. Their report focused on two sectors: universities, and a large biotech and technology hub in Cambridge, MA, Kendall Square Association (KSA). They found four main takeaways from the conversations with university TDM professionals, including the realization that universities aren't build for social and physical distancing, and that now is the time to switch to daily parking charges. In the interview with Alana Olsen Westwater, the Vice President of Strategy and Operations for KSA, Kelly and Lloyd learned that KSA was able to leverage its partnership with employers, the local transportation system MBTA, and the city of Cambridge, to "flatten the peak," and create more flexibility for essential workers, while supporting those working from home. Read more about the lessons learned by these different organizations in Kelly and Lloyd's report.
Group 4
Jane Davaransky
Facebook Transportation
Megan Gribble
Old Dominion University
Edward Howard
TransLoc

Every chapter, no matter how large or small their membership and geographical location is, struggles with having members meet in person. To assist with the issue, this group was eagerly planning "micro event" kits, to provide support and swag that would help smaller groups come together. As the pandemic quickly made them realize this wasn't going to be possible, they came upon the idea of an ACT Swag Shop instead. In this shop, ACT members can find tee shirts, coffee mugs, mouse pads, and more, decorated with a map of all ACT chapters, or their chapter specifically.
Group 5
Sylvia Crum
Innovate Memphis
Tammy Quinn
Capital Metro
Johann Weber
UrbanTrans North America

Capitalizing on momentum immediately following the ImpACT! Leadership retreat in early February, Sylvia, Tammy, and Johann launched a survey to analyze the relationship TMAs/TMOs have with their local transit agencies, and made recommendations based on the results. The recommendations from their "Transit TDM and Coordination Survey" focus on three audiences: transit agencies, TDM organizations, and ACT. The group emphasizes that both transit agencies and TDM organizations need to work more closely together to coordinate efforts getting employees (transit riders) onto transit in good times, and in bad. And the group encourages ACT to continue to promote transit as a safe and clean way to travel. View their presentation here.
Project Presentations