40 Under 40 Awards
Recognizing our industry's rising stars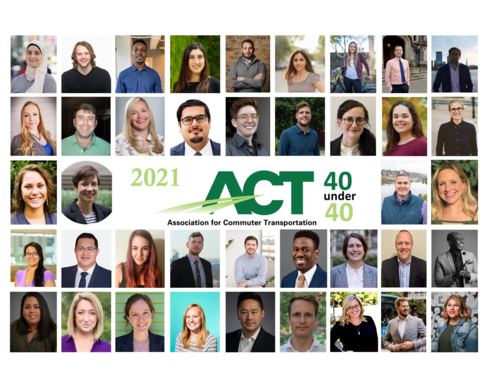 Every year at the TDM Forum, ACT recognizes a group of young professionals with its 40 Under 40 Awards. These awards are given to ambitious leaders working to find creative solutions to improve the quality of life of all commuters and the livability of communities, and developing TDM programs that shift behavior. Transportation affects everyone, and these inspiring individuals are creating a better journey for everyone.
Nominations will open in June 2023 and recipients will be recognized during our awards ceremony and reception at the 2023 TDM Forum in Los Angeles.
ACT members can begin preparing their nominations now by reviewing the follwoing questions that appear on the nomination form:
Nominee date of birth

Number of years in TDM

A summary of what makes the candidate stand out

A brief description of the nominee as a leader in TDM and any major accomplishments, including publications, awards, certifications, etc. (Max 300 words)

A brief statement on how the nominee has contributed to improving TDM access for under-represented, marginalized, and BIPOC communities

A statement on how the nominator sees the nominee making a positive impact on the TDM community in the next 3-5 years
Nominations must be submitted by an ACT member.

However, the nominee does not have to be an ACT member to receive the

40 Under 40 Award. Nominees must be

under the age of 40

at the time of the TDM Forum in November in order to be eligible. Self nominations are accepted.
We encourage nominees to plan ahead for travel to the TDM Forum.
See Past Winners