2020 40 Under 40 Award Winners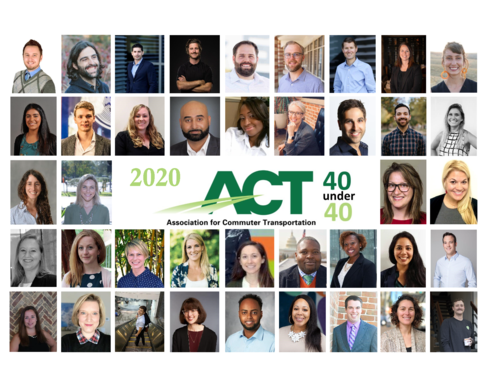 The Association for Commuter Transportation (ACT) celebrated the announcement of the 2020 40 Under 40 recipients at the annual TDM Forum, which took place virtually. Celebrating the accomplishments of a tremendous group of Transportation Demand Management (TDM) professionals and industry leaders at its annual Forum, the awardees represent a diverse cross-section of the industry, including private sector employers, city and state governments, service providers, consultants, and nonprofits committed to solving the transportation and mobility challenges facing their communities and organizations.
"During a year that has introduced unprecedented challenges to the industry, it's a pleasure to look to the future of TDM with this impressive group of leaders addressing transportation and mobility. The work they do makes a very real difference in the quality of life for commuters, and their creative solutions are improving the sustainability of their communities," said ACT Executive Director David Straus.
Watch the Full (Virtual) Ceremony!
2020 ACT 40 Under 40 Recipients
Elizabeth Bastian, WSDOT
Tim Beckwith, AECOM/Commuter Services of Pennsylvania
Aaron Berdanier, TransLoc
Roy Bick, Moovit
Joan Crockett Lyons, Boulder Transportation Connections
Chris Cukar, Tesla
Kimiya Darrell, WSP
Kelly Fetterman, Agile Mile
Katie Gable, Livable Buckhead
Aaron Gaul, UrbanTrans North America
Lyndsay Gavin, Center for Advanced Hindsight
Kathryn Hagerman Medina, RideAmigos
Alex Heliotis, WeDriveU
Nichole Hollis, AECOM/Georgia Commute Options
Sarah Hollis, Netflix
Joshua Ignagni, Dropbox, Inc.
Sara Irick, PE, PMP, Grant Integrative Facilities Management
Josh Jacobson, Commutifi
Mallory Jenkins, San Luis Obispo Council of Governments (SLOCOG)
Matthew Jones, Foursquare ITP
Marie-France Laurin, Netlift
Bobby Lauterjung, Beeline Mobility
Chris Lechner, UCLA Transportation
Katie O'Sullivan, AICP, ICF
Dayna Paszkiet, Commute with Enterprise
Sara Pennington, Rideshare Thomas Jefferson Planning Commission
Shayna Pollock, Central Atlanta Progress
Joshua Regan, 128 Business Council
Heather Salem, TDM-CP, Genentech
Esteban Sanchez, Commutifi
Eva Sanchez, SANDAG
Tiffany Seeney, Facebook
Jaspreet Singh, Hallcon
Jekeima Taylor, RideFinders
Rediet Tesfaye, Stanford Medicine
Mary Thomasmeyer, Commute.org
Puja Thomas-Patel, Steer/GoSaMo TMO
Lauren Travis, AECOM
Melanie Truhn, Nelson/Nygaard
David Zyck, WeDriveU