2019 40 Under 40 Award Winners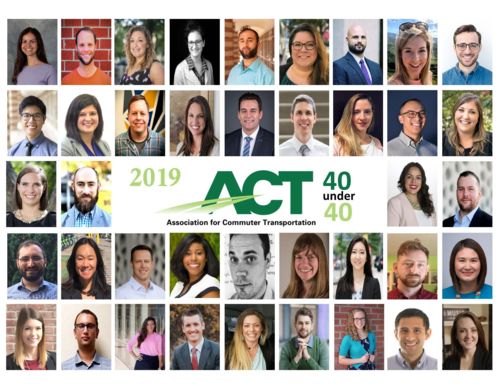 The honorees represent a cross-section of TDM professionals, including public and private organizations around the country, and the work they do is varied. As a group, they are energetic, persistent, interested in professional growth opportunities, and focused on the future. "The future is very bright for TDM with this amazing group of talent rising up through the ranks and changing the way we look at addressing the transportation and mobility challenges facing our communities," said David Straus, ACT Executive Director.
2019 40 Under 40 Recipients
Linsey Burch, Wells + Associates
Chelsea Carter, AECOM
Christopher (Chris) Chop, MaineHealth | Maine Medical Center
Abdallah Daboussi, UCLA Transportation
Ben Dalton, RideAmigos
Erin David, Alta Planning + Design
Alex Gibson, Transloc Inc.
Danielle Glaser, LinkedIn
Thomas Hamed, City of Alexandria
Michael Helta, Maryland Transit Administration
Kelly Hostetler, Luum
Rachel Jallits, Facebook
Shawn Kelly, WeDriveU
Lori La Riva, SBCAG Traffic Solutions
Christy Lee, Destination Sales & Marketing Group
Katie List, Foursquare ITP
Erica Liston, Commute with Enterprise
Lily Lowder, Alamo Area Metropolitan Planning Organization
Weiser Manzano, Salesforce
Adrienne Moretz, SACOG
Louis Pappas, Bird Rides Inc.
Ross Peizer, Community Transit
Raul Peralez, San Jose Office of Council District 3
Justin Rees, Ride Systems
Marc Rivers, Nike
Aslyne Rodriguez, EmpowerBus
Jessica Sanborn, Google
Courtney Schultz, Charlotte Area Transit System
Sarah Spicer, City of Seattle Dept of Transportation
Joseph Stainsby , Vanpool Alliance
Federico Tallis, VHB
Christina Torkelson, ACHD Commuteride
Jimmy Tran, UCLA Transportation
Erick Van Wagenen, WeDriveU
Ricardo Vera, NCR
Kristina Walker, Downtown On the Go
Julia Wean, Steer
David Weisman, Scoop
Marla Westervelt, Bird Rides Inc.
Lia Yim, Kite Pharma