2016 40 Under 40 Awards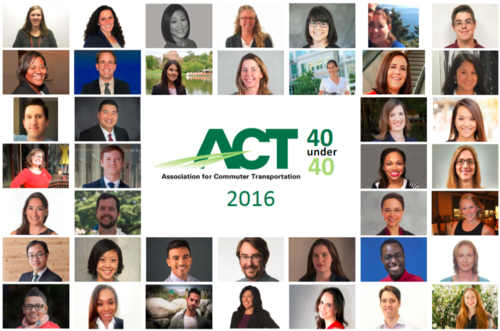 The 2016 40 Under 40 Awards recognizes a diverse group of individuals who range from digital start-ups and big name companies, who make transit options more accessible, to city and regional transportation officials most effectively increasing the use of commuter benefits and rideshare across the country.
"This group represents a cross section of our industry and how TDM is integrated throughout the public and private sectors. These forty individuals are shining stars for the TDM profession and we look forward to them leading TDM for many years to come," said ACT President Rob Henry.
2016 40 Under 40 Recipients
Alexandra Dupree, Central Maryland Regional Transit
Allison Velleca, AECOM
Alyssa Sherman,Apple Inc
Amber Blake, City of Durango, Dept. of Transportation & Sustainability
Amber Broha, 36 Commuting Solutions
Anya Babbitt, SPLT
Becca Cyr, MassRIDES/AECOM
Cathy Cibor, Alta Planning + Design
Courtney Menjivar, Wells + Associates
Courtney Reynolds, TranSystems
Danelle Carey, WCCTAC (West Contra Costa Transportation Advisory Committee)
Daniel Callas, TransOptions
Erin Burke, Delaware Valley Regional Planning Commission
Eva Hsu, ICF International
Heather Reiners, MetroPool, Inc.
Jaime McKay, Central Maryland Regional Transit
Jeff Puckett, Texas A&M University
Jeffrey Chernick, RideAmigos
Jesse Kafka, vRide
John Andoh, Capital Metro
Keara Mehlert, Arlington Transportation Partners
Kevin Chau, Enterprise rideshare
Lauren Parker, TriMet
Lindsay Walker, Nike Inc
Lucy Tice, Google
Melissa McMahon, Arlington County Commuter Services
Michelle "Shelly" Parker, GoTriangle
Michelle Althoff, Enterprise
Monica G. Tibbits-Nutt, 128 Business Council
Patrick Sullivan, Seaport TMA
Peter SerVaas, DoubleMap
Robyn Chiarelli, Downtown Ft. Lauderdale Transportation Mgmt. Assoc.
Ryan Croft, TransitScreen
Shana Johnson, Foursquare Integrated Transportation Planning, Inc.
Steven Higashide, TransitCenter
Tien-Tien Chan, City of Austin - Transportation Department
Tony Perez, Salt River Project
Traci McPhail, North Bethesda TMD/TAP
Walter Jenkins, City of Charlotte / CATS
Wendy Scholtz, CBRE, Inc. / Microsoft Account