Greater Madison MPO Launches New "Roundtrip" TDM Program Brand and Website
Date posted
November 23, 2021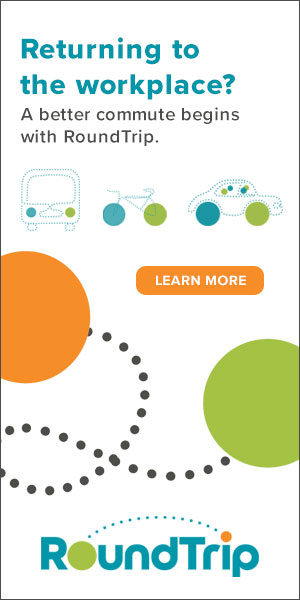 By Zia Brucaya, RoundTrip TDM Program Manager, Greater Madison MPO
In August 2020, the Greater Madison MPO launched a new "RoundTrip" brand for the regional TDM program it manages, replacing the decades-old "Rideshare Etc." brand shared with the State of Wisconsin Department of Transportation's (WisDOT) TDM program. The Greater Madison MPO is the designated metropolitan planning organization for the Madison urban area located in Dane County, Wisconsin, covering thirty-four contiguous villages, cities and towns, and approximately 550,000 people. A centerpiece of the MPO's TDM program is a ride-matching platform made possible through a partnership with WisDOT and advertised statewide as
Rideshare Etc.
As part of its 2021 rebranding, the MPO launched RoundTrip as a distinct program brand and website dedicated to providing ride matching and other TDM services for individuals and employers in
Dane County
. The RoundTrip website and statewide ride-matching platform it connects to are provided by TripSpark.
To develop RoundTrip, the MPO worked with local firm Distillery Design Studio to create a fresh, modern brand that would be flexible enough to accommodate the variety of programs and transportation options that might fit under the TDM umbrella in the future, encompassing the commute as well as other trips. RoundTrip's mission is to connect individuals, businesses, and organizations in the Madison region with convenient alternatives to driving alone, and the program's tag line is, "Smart options for everyday trips." The six-month rebranding process was informed by feedback from existing Rideshare Etc. users and community stakeholders who, while recognizing the value of the TDM program and its potential to do good in the region, pointed out the need to modernize the name and logo, improve awareness, and create a more user-friendly online look and feel to increase engagement.
The new RoundTrip brand and website have been valuable tools to more effectively connect with and engage individuals and employers in the region. The website now acts as a hub of information about transportation options in Dane County, and includes dedicated webpages with instructions and resources for both commuters and employers. As part of the RoundTrip brand rollout, the MPO also worked with TripSpark to develop a user-friendly digital sign-up and voucher request process for the Emergency Ride Home (ERH) program, replacing the old manual process that relied on mailing individual paper vouchers to participants to keep on hand. Since the RoundTrip website launched on August 10, the program has seen over 1,300 new users visit the site, 100 new sign-ups, and 22 online ERH registrations.
Looking ahead, the Greater Madison MPO will use the new brand to continue to build out marketing materials to help area municipalities and employers promote the program, as well as to support an annual regional TDM marketing campaign funded in partnership with Dane County, the City of Madison, Metro Transit and University of Wisconsin-Madison.