Back to Events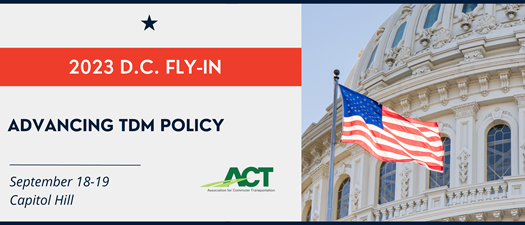 2023 D.C. Fly-in
Monday, September 18, 2023
to Tuesday, September 19, 2023
Event Details
Join us for the 2023 D.C. Fly-In in Washington, D.C. to get the inside scoop on TDM issues and policies affecting the industry. Fly-In participants will engage with subject matter experts and officials; and have the opportunity to meet directly with staff from their Members of Congress. A networking reception will be held the evening before the event to welcome you to D.C. with views of The White House.
Participation in a Fly-In is a great way to share the impacts and benefits of your TDM program with members of your congressional delegation. ACT staff and government relations firm will assist members with scheduling meetings. A training session will be held in advance of the Fly-In to prepare you for your meetings. Trained staff and experienced members will be available to attend meetings with all members.


Event schedule:


Monday, September 18, 2023
5:00 - 7:00p.m. – Networking Reception
---
Tuesday, September 19, 2023
Location: United States Capitol, Senate-115
8:30 a.m. - Breakfast
---
9:15 a.m. - Utilizing Federal Programs to Implement TDM at the State Level
With record funding levels and new federal programs like Carbon Reduction included within the Infrastructure Investment & Jobs Act, there is significant opportunity for states to support increased investments in TDM strategies that will improve efficiency of our transportation systems and expand sustainable mobility options for all people. This panel will share how state DOTs are looking to utilize federal programs to achieve TDM and climate goals.
Speakers:
Chris Arabia, Manager of Statewide Commuter Programs - Virginia Department of Rail and Public Transportation
Anna McLaughlin, Program Director for Transportation Program Management - AASHTO
Matt Meservy, Director - Long Range Planning Division - Tennessee DOT
Moderator: Veronica Jarvis, Senior TDM Planner - Thurston Regional Planning Council
---
10:15 a.m. - Achieving Decarbonization through TDM
Making immediate steps towards the decarbonization of our transportation will require the use of TDM strategies to provide real transportation options to people. TDM measures are among the most cost effective strategies in reducing vehicle emissions, which is why the use of TDM was identified as a key lever for policymakers to utilize within the National Blueprint for Transportation Decarbonization. This panel will discuss actionable steps that can be taken by Congress, US DOT, and State leaders to achieve results.
Speakers:
Matt Caywood, CEO - Actionfigure
Tina Hodges, Environmental Protection Specialist - Office of the Secretary, US Department of Transportation
Moderator: Rob Henry, Executive Director - GVF
---
12:00 p.m. - Improving and Decarbonizing the American Commute – Press Event
---
12:30 p.m. - 1 p.m. - Lunch (in groups - no host)
---
1 p.m. - 5 p.m. Hill Meetings with Members of Congress
(individual and group meetings with each member of your delegation will be requested for all attendees - unless requested not to - and a final schedule of meetings will be distributed in the days leading up to the event)
For More Information: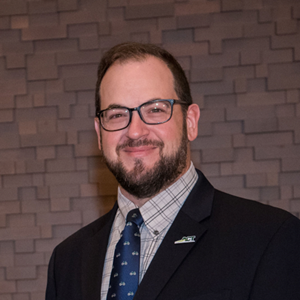 David Straus
TDM-CP
Executive Director
Association for Commuter Transportation
(202)792-5801
Hotel information:
AC Hotel Washington DC Downtown
1112 19th Street NWRate: $299 per night
Click HERE to reserve a room – Reservation will need to be made by Saturday, September 9.

NOTE: If you need a Government Room Rate for Monday night or need to stay over on Tuesday evening (September 19), please contact Casey Murphy before booking. Space is limited as Congress is in session and the Congressional Hispanic Caucus Institute's Annual Leadership Conference is in town.
Qualifies for 10


---
Promote your participation in the Fly-In
Download social media squares for attendees!