Alternate Route Leads to Electric Vehicles for Penn Transit's Fleet
Date posted
April 26, 2023
Sometimes when you are on a road trip, your navigation system points you toward the direct route to your destination, the road most traveled. However, by following that route, you may find yourself missing out on something important off the beaten path. That was Penn Transit's experience as it took a detour on its journey to bring the first electric vehicles to the University's 46-vehicle fleet.
Almost 75% of Penn Transit's annual ridership comes from passengers who use the University's on-demand shuttle services. Recently, ridership has been trending up by 28% compared to previous pre-pandemic highs. During this period, we also had several vehicles reaching the end of their life cycles as mileage had climbed to 150,000 to 200,000 miles driven on the heavily trafficked roads in the areas around campus known as University City. Updating our fleet, and doing so by procuring our first electric vehicles, was challenging since fully electric passenger vans are not yet widely available for purchase. Penn Transit elected to look elsewhere to determine available options and learned that retrofitting electric-powered cargo vans was a better alternative. Not only was it less expensive to go this route, it meant we could begin supporting the University's carbon-neutral commitment sooner than anticipated by welcoming the first electric transit vehicles to campus.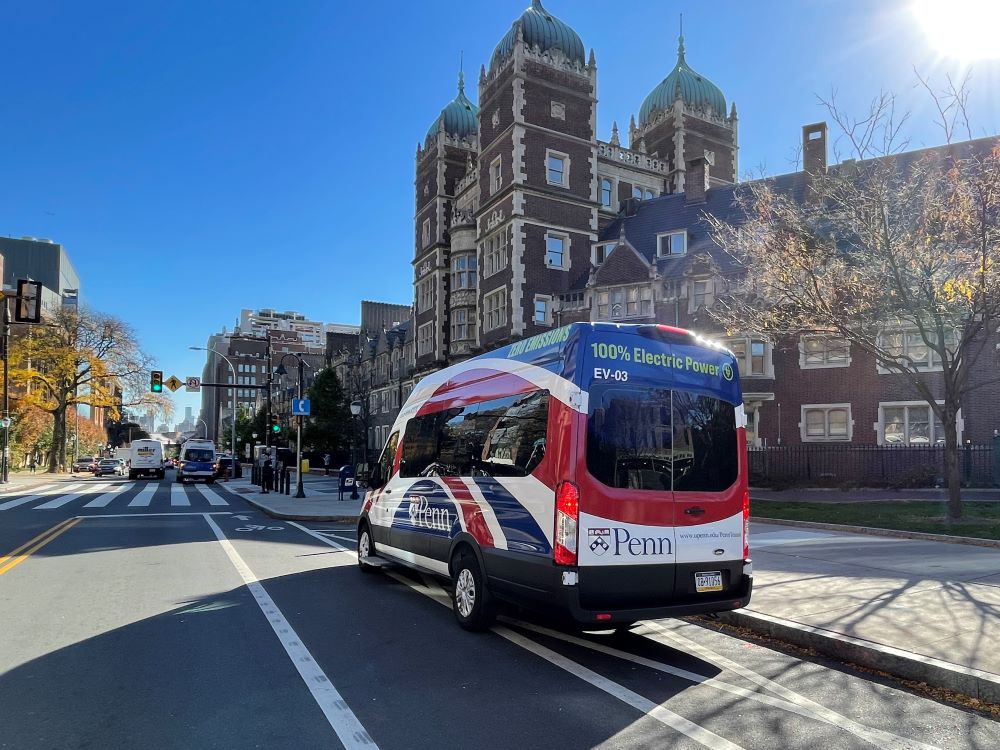 Why electric? Fleet electrification decreases carbon emissions and reduces the carbon footprint. Compared to gas-powered shuttles, each vehicle saves 13.2 metric tons of CO2 per year or 53.04 metric tons for Penn's four shuttles. According to the U.S. Department of Energy, the environmental benefit of this transition equates to growing 893 saplings for 10 years.
It's been approximately six months since the first electric vehicles debuted on campus. Along the way, we learned many lessons others might find informative if they are looking toward converting to fleet electrification:
- Do your research in advance. Know what your fleet needs.
- Monitor pricing, as it is fluctuating widely now.
- Be patient. Vehicles are back-ordered, as are the charging stations necessary to keep the shuttles running.
- Work with your local electricity provider to ensure your grid can handle the additional load.
- Funding that can reduce your sticker price may be available for electric vehicles from various government agencies.
Transitioning a fleet to electric power is not quick, requires some research into what is available, and what are the user's specific needs. It is worth it, though. According to Marie Witt, Penn's Division of Business Services Vice President, doing so benefits both the institution and the environment. "We are very excited about the addition of electric vehicles being the latest sustainable transportation initiative from Penn Transit and look forward to building on the success of our launch."