The Overlooked Importance of Last-Mile Shuttles
Date posted
January 26, 2023
Last-mile shuttle service is a frequent topic of discussion within the TDM community but the complete spectrum of benefits they provide is not always made clear. The purpose of this article is to provide a different perspective on last-mile shuttle services by drilling down on two (2) less commonly referred to benefits proven to bring about impactful change.
Common knowledge pertaining to last-mile shuttles tells us that by connecting populations of travelers with nearby public transportation systems we reduce single occupancy vehicles and the challenges they create (congestion) or exacerbate (parking constraints). There are also business continuity motives such as recruiting and retaining workforce, enhancing productivity by providing WIFI-enabled transportation, and reducing traffic congestion by consolidating single occupancy vehicles into shared modes.
Diving Deeper into two less commonly touted outcomes:
Improving equitable access to economic opportunity: While there are many applications, last-mile shuttle programs are frequently presented as benefits offered by companies in sectors that employ corporate ("white-collar") workers. Without undermining the significance of those programs, it is important to elevate a different opportunity for cities, businesses, and other entities to more fairly serve trade laborers ("blue-collar") and bring about a more equitable mobility offering for people working in commonly lower-wage organizations that have less competition recruiting talent. Many, industrial centers are now located outside of urban centers and in rural areas where space is abundant but public transportation is lacking. The exponential cost of car ownership, rural location of available careers, and lack of public transportation is a solvable barrier that has clear benefits. Beyond known benefits, last-mile shuttle programs in industrial areas connect existing workers and prospective job candidates to the worksite, without requiring a personal vehicle, and extend economic opportunity to those who otherwise would not have been able to access the worksite/career opportunity.
Introducing public transportation to fill gaps and address broader community challenges: Many areas are considered "transportation deserts" where service is limited or does not exist due to a variety of limitations such as the size or location of a city, employer, or other entity. Despite anecdotal demand and political evangelism these limitations often leave communities and stakeholders feeling like they are running in circles with little progress made. One of the less-promoted benefits of last-mile shuttles is the ability to collect, analyze, and report real ridership results that when shared with public agencies, is a trustworthy and effective piece of evidence that can lead to decision-making that ensures our TDM community is identifying and filling gaps in service.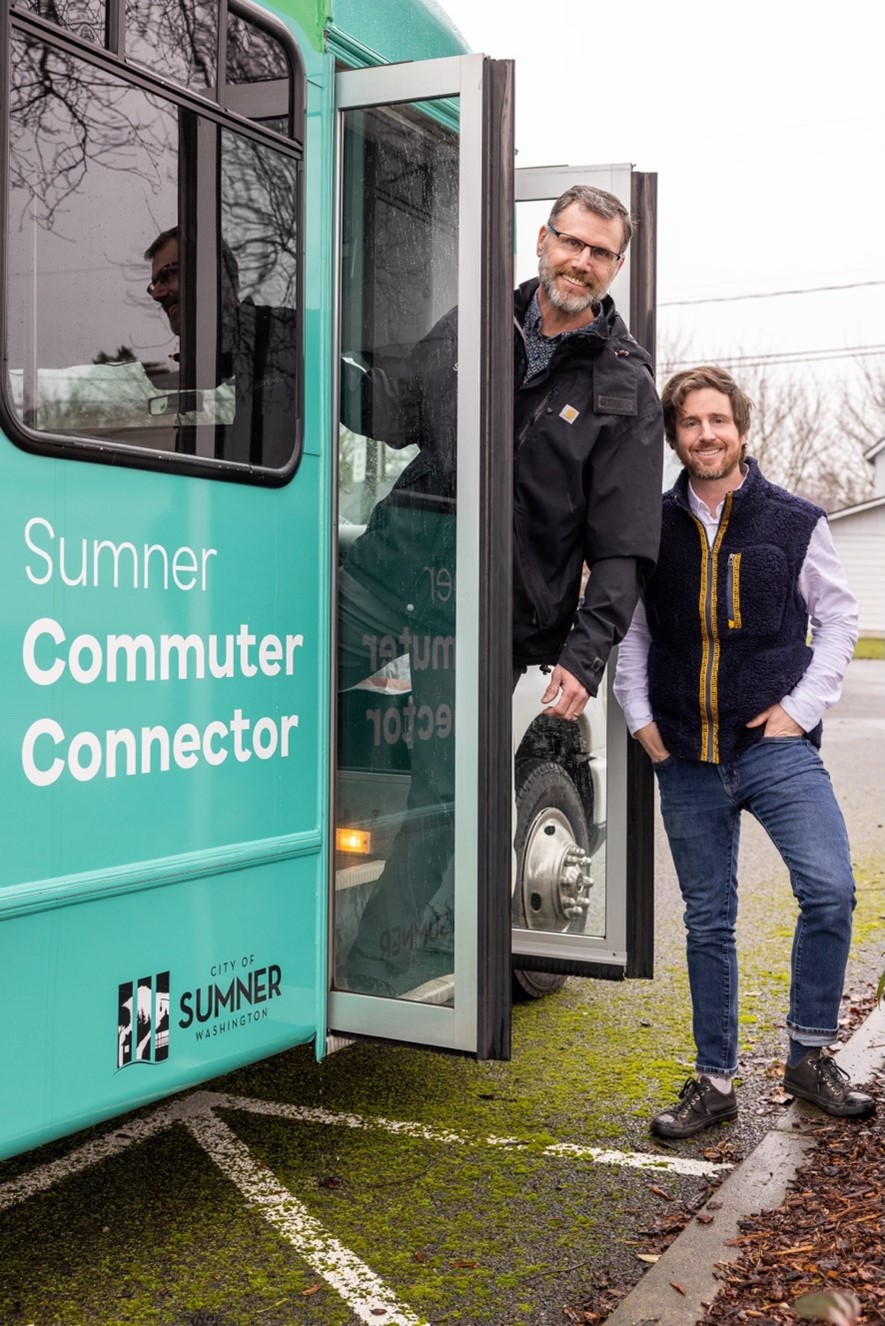 Last-mile shuttles can be applied in a variety of settings that meet 
the direct needs of workers expected to utilize the service.  As an industry we must consider when planning last-mile systems, how we can unlock access and opportunity for all people within the community.
Caption: Ryan Windish (Community Development Director, City of Sumner) and Bobby Lauterjung (Director of Transportation Systems, BusUp) recently launched the Sumner Commuter Connector, a last-mile shuttle service designed to bring safe, reliable, and equitable transport to the city's industrial center workforce (16,000+) with hopes of presenting performance metrics that lead to re-introduce public transportation for commuters, residents, and employers alike.