ACT Announces AASHTO Partnership
The
Association for Commuter Transportation (ACT)
is excited to announce a strategic partnership with the American Association of State Highway and Transportation Officials (
AASHTO)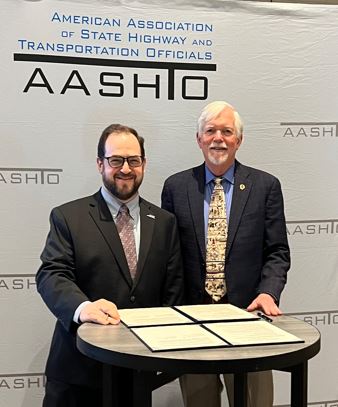 .
During the AASHTO Board of Directors meeting on Thursday, May 18, 2023, ACT Executive Director
David Straus
signed an MOU with AASHTO President
Roger Millar
, Secretary, Washington State DOT.
"We look forward to working with state DOTs to develop, expand, and strengthen TDM initiatives that will deliver new options to all residents, as we strive to get the most out of our existing transportation infrastructure," said David Straus.


The MOU is predicated on the two associations' mutual desire to align transportation interests across partners and regions; connect community, economy, land use, and the environment; and advance safety, mobility, and access for everyone through a multimodal transportation system.


"Making TDM an integral part of the project planning, and construction mitigation process, increases the resilience of the entire transportation system", said Veronica Jarvis, Senior TDM Planner at Thurston Regional Planning Council. "Whether DOTs implement a statewide program, or target TDM in rural areas, TDM strategies can make a big difference in your communities."


Through this MOU, ACT and AASHTO will jointly convene activities such as conferences and webinars, and provide joint professional development opportunities.


As part of the partnership, ACT is providing
complimentary one year ACT memberships
to every AASHTO member department.
To further support DOTs and their staff in the development and implementation of TDM strategies, ACT has launched a new
Government Community
in
Connect.
In addition, we will be hosting a virtual
Government Community Meet Up
on Friday, June 2. Additional programming and activities will be announced in the coming months.