Getting To Know: Brendan Seney, Go Buffalo Niagara
Date posted
February 23, 2022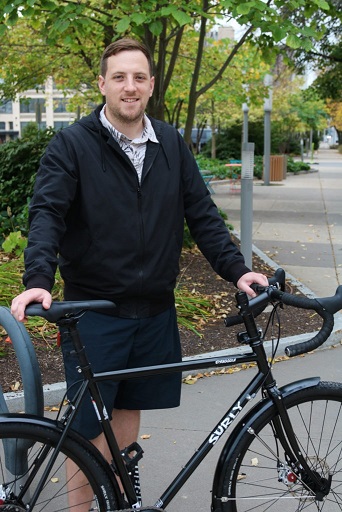 GO Buffalo Niagara (GO BN) is the transportation management association for Erie and Niagara Counties in Western New York. We are a program of GObike Buffalo, a non-profit organization focused on mobility advocacy, education, and planning. GO BN offers commuter benefits, educational and promotional material, and membership services. My post-BA career began in digital marketing before I changed careers and earned a Master's in Urban Planning from the University at Buffalo in 2018. Before starting at GObike, I was a planner for the UB Regional Institute focused on community engagement, economic development, and transportation.
In 2019, I made a New Year's resolution to drive less. That year, I actually followed through and became a transit and bicycle commuter, significantly reducing my vehicle trips and realizing all the benefits of using sustainable transportation, like better physical and mental health, cost savings, feeling a stronger sense of community, and more. GO BN was the perfect opportunity to leverage my marketing and planning backgrounds to help other people discover the benefits of changing their transportation habits at an organization that is shifting the transportation paradigm in our region.
My predecessor at GO BN, Katie O'Sullivan, recommended that I look into ACT when I first began my position here. My first exposure was through a webinar where I heard from other TDM professionals in other parts of the US about the impacts of COVID-19 on commuting patterns. I quickly realized that ACT was going to be a valuable resource for me as we built out GO BN's programs and strategies.
Our most immediate opportunity in TDM is to leverage the pandemic's disruption of work and commuting. While people are transitioning their habits to adjust to the "post-pandemic" world, we have an opportunity to introduce commuters to the idea of changing how they get to work. It's unlikely that we'll ever get back to the way things were before, but we can show people that there is a chance for a better normal.
A challenge to TDM in Buffalo Niagara is actually the lack of negative motivators experienced in larger markets, like congestion, travel time, and expensive/scarce parking. Though 83% of workers drive alone, average commutes are only 22 minutes. Buffalo Niagara has a glut of parking, most of which is affordable or free. Until recently our region's population was relatively stagnant, but sprawl continues. Combined, this means negative motivators to change transportation behavior are less impactful and individual-level benefits are less apparent. But the necessity for TDM here still exists; transportation is New York State's largest contributor to greenhouse gas emissions, and communities still devote massive amounts of land to storing and moving cars that could be better utilized as housing, businesses, or green space. Changing travel behavior will require support from policy makers, community leaders, and employers to help shift the current "car as a default" culture we have here.