ACT's New Shuttle Council Hits the Accelerator
Date posted
September 23, 2021
The Shuttle Council celebrated its inaugural meeting at ACT's 35th Annual International Conference and momentum is building for key initiatives attendees discussed for the work plan:
Our survey committee is off and running
with the goal of assessing the reach, impact and value of private shuttles. Led by Dominic Haigh (Trakk), with support from Shawn Kelly (WeDriveU), Jim Bilbao (OneCommute) and Paul Mayer (Dattco), the committee has brainstormed questions, and has started consulting with the Vanpool and other councils. Want to help? Email
Dominic
.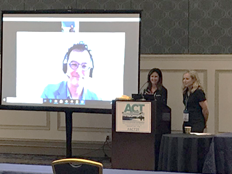 Our
"Commute Comeback" ACT conference session
was very well received. Julie Bond from CUTR recognized Best Workplaces for Commuters winners such as Tesla, Hacienda, University of South Florida and Tampa General Hospital for their exceptional job re-activating commuters and offering sustainable shuttles throughout the pandemic. Paulo Nunes-Ueno (Nunes-Ueno Consulting) shared insights on how shuttles are influencing the evolution of mobility and this unparalleled opportunity for TDM professionals to rethink transportation based on new workplace and campus dynamics.
With our council's
charter
in place, there are a number of opportunities for members with interest in shuttles to get engaged. We're looking for a committee leader to run with work plan ideas for educational and networking events ranging from virtual coffee chats and happy hours to webinars.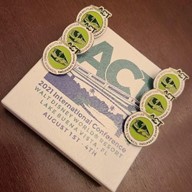 Calling all communicators! The council has also formed a Communications Committee to help spread the word about private shuttles, much thanks to Craig Nestler (Zeelo) and Paul Mayer (Dattco) for raising your hands early to participate!
Your pin is waiting!
Sign-up for the council and receive a commemorative Shuttle Council pin - ACT's first for a Council.
The Road Ahead
Your Council leaders Joanna Rustin (WeDriveU), Jeremy Burdett (TransWest) and Gary Bauer (Bauer's Intelligent Transportation) welcome your participation as we forge ahead on our ambitious agenda.
"Enthusiasm for the new Shuttle Council has been incredible. Together with ACT, we're thrilled to lead the future of sustainable commuting by sharing ideas and evangelizing the benefits of groundbreaking mobility solutions for workplaces, campuses and communities. From EVs to technology and talent, private shuttles bring endless opportunities to reimagine journeys."
"It's an incredibly dynamic time to be an operator. I'm grateful for the opportunity to leverage ACT's platform to foster dialog and knowledge sharing across issues ranging from navigating global pandemics to fleet electrification and short-term challenges such as driver recruitment."
Jeremy Burdett
- TransWest
"We are honored to work with all the shuttle operators, to enhance what we all do and better inform the Corperate clients, Schools and other users of shuttle services how to Optimize service and better understand the future of transportation due to the Pandemic and the zero emissions future regulations which will be here before we know it. It was great to see everyone in Orlando and look forward to working together."
Gary Bauer
– Bauer's Intelligent Transportation