ImpACTers Meet in Anaheim
Date posted
February 23, 2023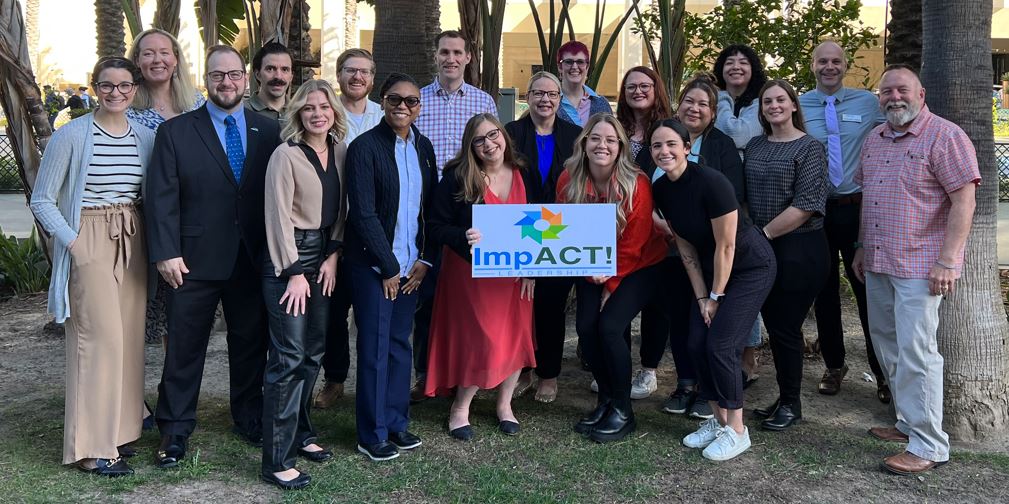 Fourteen ACT members gathered in Anaheim, CA, for the 2023 ImpACT! Leadership retreat at the beginning of February. This year's cohort represented not only the fifth year of the program (having missed 2021 due to the COVID-19 pandemic), but also the first year it was held on the West Coast.
This year's cohort received two days of in-depth leadership training, took a journey through the history of TDM, and received a crash course on all there is to know about ACT as an association. Beyond the learning, there were opportunities for team building, as we took advantage of our location and hosted an evening scavenger hunt inside Disney's California Adventure. There was also plenty of networking between participants, along with the ACT Board of Directors and individuals participating in the inaugural meeting of TDM executives.
Closing out the retreat, participants were divided into groups and selected project topics to work on throughout the remainder of the program. The selected projects focus on encouraging student engagement; outlining TDM funding options; and a follow-on of last year's "Who is Terry TDM?". Over the next several months, these groups will undertake research and other activities as they develop guidance for ACT and the TDM industry on each topic. They may reach out to you as part of their projects, so help them out if they do!
On September 6, 2023, the groups will virtually present their final project results, so save the date and join us then to learn more.
The fourteen ImpACT participants came from 8 of ACT's 11 chapters and represente several different industries as well as geographic locations. Several were recipients of scholarships from their chapters – thanks to those chapters!
Interested in joining ImpACT! Leadership for 2024? The Professional Development Committee will host a virtual information session and discussion on Friday, March 17, at 3pm ET. Register here to learn more.
ImpACT! Leadership Class of 2023
Andrea Gutierrez Aguilera, CSU Fullerton
Magic Aguinaga, Intercity Transit
Mandy Basile, Genentech
Jane Bowman Brady, GO ITHACA
Lyndel Fusello, Google
Evangelos Gatseos, Denver South EDP
Walter Kolis, Emory University/Clifton Corridor TMA
Meghan Mathson, Metro Nashville Planning Department
Julie Mazur, CapMetro
Amanda Meyer, Central Indiana Regional Transportation Authority
Jena Peevy Shaw, Metropolitan Regional Transportation Authority
Alex Temkin, RideAmigos
Peter Williamson, Santa Barbara County Association of Governments
Alex Zimmerman, TripShot